Registered Email™ Services by RPost – The Original and Only
The inventor of the patented Registered Email™ track and prove technology, the only certified email service used worldwide, since 2000.
Invented near the beaches of California during the original dot-com days, RPost has established its Registered Email™ services and underlying patented technologies as the worldwide legal and email authentication standard.
Initially debuted at Internet World in 2000, the Registered Email service by RPost continues to receive accolades and awards across industry and internationally.
View our Original Website in 2000.
We have been endorsed or identified as a top choice for messaging and document transaction security, privacy compliance, and functionality.
Our mission is to help our customers worldwide communicate and transact electronically in the most secure, compliant, and productive ways possible, and to continuously innovate our products to support their evolving needs.
We accomplish this through our expert teams in the United States, United Kingdom, Switzerland, Costa Rica, Brazil and India, and with our partners everywhere.
A word of caution. Just as there are people who sell counterfeit watches, there are Registered Email™ and Certified Email™ counterfeits and impostors, including similar-sounding services that lift RPost content, copy RPost trademarks, and infringe on RPost patented Registered Email™ technologies. Don't be fooled.
View our original news release debuting RPost's Registered Email™ service in 2000.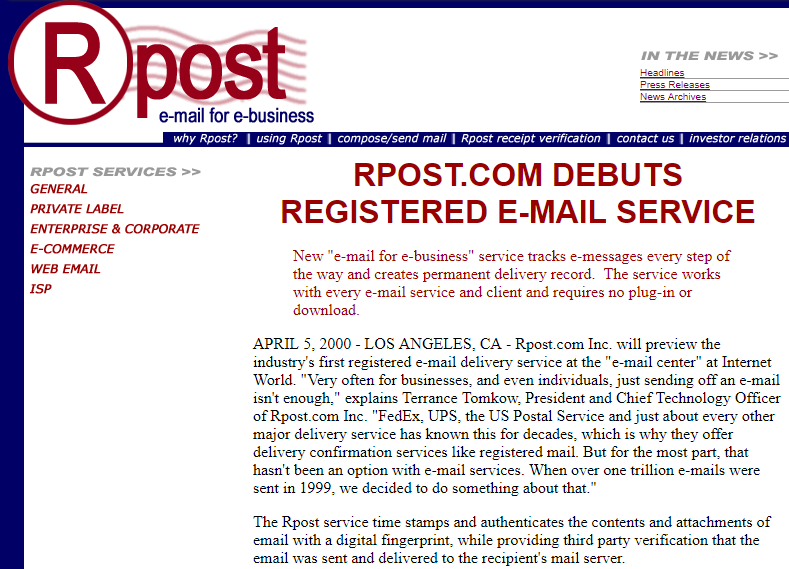 Registered Email™ technology is RPost patented.
Contact our integration team to learn more about how you can add Registered Email™, RMail, and RSign services to your workflows.